Description
(YOU DON'T HAVE TO BE THERE FOR BBQ DELIVERY/PICK UP)
4 Burner (With full gas tank)
When you need to Rent a Grill, just click here to have one delivered.
Honey BBQ Salmon
Honey BBQ Salmon is super moist and flavorful and makes a healthy, quick & easy weeknight meal. It can be on the table in under 25 minutes. I like to serve it with just a side salad for a light meal that's great for the summer months.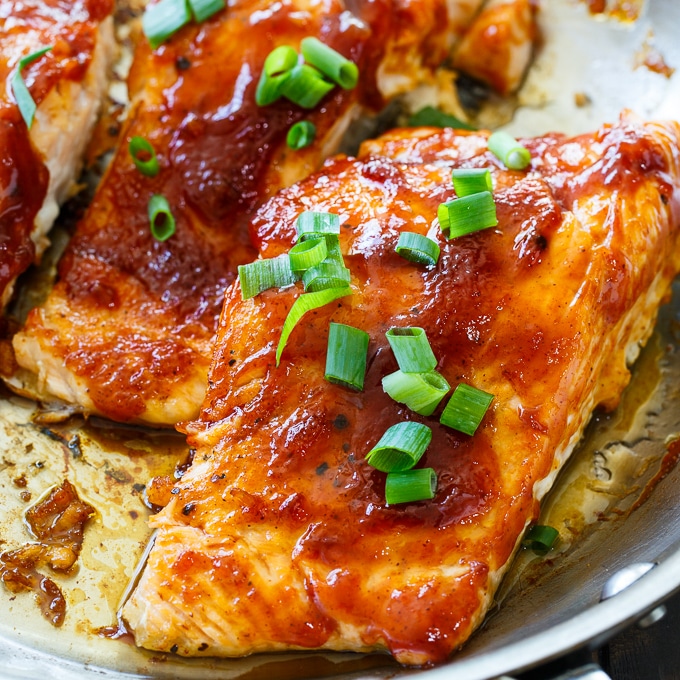 PREP Time: 5 minutes, Cook Time: 18 minutes, Total Time: 23 minutes, Servings: 4
Ingredients
1/2 cup ketchup
1/4 cup honey
2 tablespoons apple cider vinegar
1 tablespoon packed light brown sugar
1 teaspoon Worcestershire sauce
1/2 teaspoon garlic powder
1/2 teaspoon chili powder
1/2 tablespoon dried minced onions
1/2 teaspoon cayenne pepper
1 tablespoon olive oil
4 (6-ounce) salmon fillets
sliced green onions
Instructions
Preheat oven to 300 degrees.
Combine all ingredients except salmon and green onions in a small saucepan. Bring to a   boil and simmer for 8 minutes.
Meanwhile heat olive oil in a large oven-safe pan over medium-high heat. Lightly season salmon with salt and pepper and place in pan skin side UP. Cook for 2 to 3 minutes or until nicely seared.
Turn salmon so that it is skin side down. Baste with BBQ sauce and place pan in oven until salmon is cooked through, about 10 to 12 minutes.
Baste salmon again with sauce and sprinkle with green onions.